About Seoul
Current Page

General Information > About Seoul
Seoul has been the capital of Korea for about 600 years since the time of the Joseon Dynasty (1392-1910). Seoul was referred to as "Han Yang" during the Joseon Dynasty, but after the liberation from Japan in 1945, the newly founded Republic of Korea officially changed its capital city's name to Seoul. Seoul has developed into a bustling metropolis, acting as the hub for political, economic, social and cultural matters. The Hangang River runs through the heart of the city. The river divides the city in two; the northern part of the city is a focal point for culture and history, while the southern part is well known for its business district.
Seoul has hosted many international events including: 1986 Asian Games, 1988 Olympic Games and 2002 Korea/Japan FIFA World Cup. The success of these events has shown people that Korea is truly an international city.
General Information
Official Name:

Seoul Teukbyeol-si

Location:

Central west on the Korean Peninsula

Geography:

Hangang (River) flows through Seoul from east to west and mountains surround the city. Bukhansan (Mt.) and Dobongsan (Mt.) are to the north of Seoul, Geomdansan (Mt.) to the east and Gwanaksan (Mt.) and Cheongyesan (Mt.) to the south.

Population:

Seoul has a population of 10,236,408 people. [2016 (3/4) Statistic]

Surface Area:

605.33 sq.km

Language:

Korean (Japanese, English and Chinese available in main tourist areas)

Religion:

Christianity 25%, Buddhism 25%, and other
Seoul, the Icon of Korean Culture !
Seoul is the cultural center of Korea with five ancient palaces and five World Heritage Sites designated by UNESCO; over 700 museums, including the National Museum of Korea and the National Folk Museum; and hundreds of performace centers and galleries.
With five ancient palaces and five World Heritage Sites designated by UNESCO, Seoul is the living history of the Joseon Dynasty. Experience life in the past at the Bukchon Hanok (traditional Korean houses) Village, traditional arts performaces or with traditional Korean food.
History and tradition is not the only thing that Seoul has to offer. Seoul also embraces modern era with a strong foundation of high-tech technology and infastructure and a number of world class performances like "NANTA", "JUMP", and B-boy performances.
Seoul is now one of the largest economies in the world and has become a center of economics and culture in Asia.
The city is now pursues various policies to help perserve the enviornment such as using green vehicles and developing and perserving natural parks and trails within the city.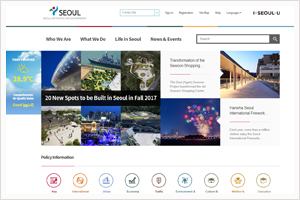 Seoul Metropolitan government

Seoul Metropolitan government provide comprehensive information for foreigners who want to know more about Korea!

- Website : http://english.seoul.go.kr/