How to Travel to Seoul
Current Page

General Information > How to Travel to Seoul
The center of Korea, Seoul offers everything to delight its visitors. From cutting edge technology and trend-setting culture to remarkable history and traditions, from shopping centers to beautiful nature, Seoul's attractions colorfully come together to engage all five senses.
Top 10 Attractions
From old to new, explore all that the city has to offer. Visit the best shopping districts, the top historical sites, and the places with the best views of the city skyline. Whether you prefer modern architecture or the charm of the royal palaces, there is something for everyone!
1

Dongdaemun Market

A huge shopping district where you can find almost anything!
2

Myeong-dong

Seoul's shopping mecca filled with beauty outlets, malls, street stalls, and more.
3

Gyeongbokgung Palace

The first royal palace built during the Joseon dynasty.
4

N Seoul Tower

One of the most popular ways to see Seoul's skyline.
5

Insa-dong

Experience Korea's traditional charm through food and shopping.
6

Namdaemun Market

The largest traditional market in Korea with over 10,000 stores.
7

Seoul City Wall

Once used as a fortress in the past, it is now a beautiful, scenic way to explore the city.
8

Dongdaemun Design Plaza

Boasting amazing architecture, this space is used for the latest and hottest exhibitions in Seoul.
9

Hongdae

Most energetic at night, Hongdae is known for its cafes, clubs, wall murals, fashion, underground music and art festivals.
10

Cheonggyecheon (Stream)

This long, modern stream runs 11 km long through downtown Seoul. Try dipping your feet!
Seoul City Tour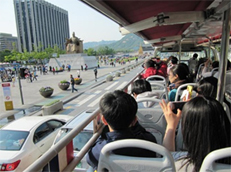 Seoul City Tour Bus offers a pleasant and comfortable tour of Seoul for foreign tourists.
Nestled around the Hangang River is the Korean capital Seoul, a city of old and new. With thousands years of history, it has well preserved royal palaces, historical relics, and cultural treasures, yet state-of-the-art facilities and infrastructures as well. The Seoul City Tour bus runs a course that covers major points of interest in Seoul.
Seoul Certified Quality Tour Product
To develop Quality tourism Packages for Seoul,
the City of Seoul certifies and supports the development of
high class tourism Packages through strict evaluation.
Among in-bound travel agencies in Seoul that offer Seoul Certified Quality Tour Package, those that worked hard to improve low price tour market and develop high quality products are selected as Seoul Certified Quality Travel Agencies.